...and the City. Oh, you dirty
dirty
minded people...I'm talking about the MOVIE! The second installment of The Sex and City movie comes out May 27th. Everyone who's
anyone
knows the reason most people watch Sex and the City is because of the -fashion-. The obnoxious rose pins, long flowing tails, tightly tailored suits, peep toe Jimmy Choo's--basically every piece of clothing, from head to toe, is the reason.
TV shows, movies, photoshoots, runways... Fashion wise, all of those would be boring without the help of a Stylist. Of course, if it weren't for the designers, then the stylist wouldn't have anything to work with. Who is the glamorous and innovative stylist of the stars of Sex and the City you may ask? Well... its Patricia Field. This lucky @!:#) has got talent. Just check out the trailer below, and you'll see what I mean.
Patricia does it all... just check out these outfits from the set of the Sex and the City.
As much as I dislike SJP, Patricia knows what looks good on her.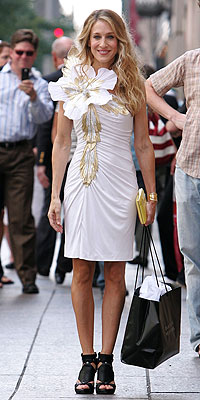 SJP as Carrie Bradshaw in Dior, and her over-sized flower pin.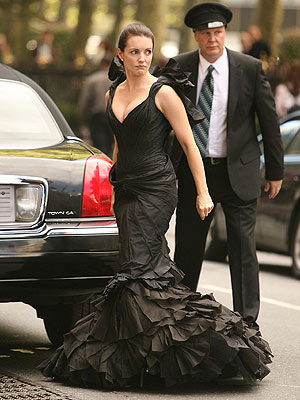 Kirstin Davis in Zac Posen
Patricia dresses the stars in Manolo, Jimmy Choo, Dolce, Fendi, Dior, Prada, Cavalli... (*drool*, I can only imagine what the dressing rooms are like). Not only does Field style the Sex and the City women, but she also designs her own stuff.
Keith-Haring inspired stuff! (EGAD!!!!!!!!!!!!)
I would so wear those... So fetch! (Anyone remember that saying from Mean Girls?)
Find out and check out more of Patricia's stuff
here
!
You know you love me,
xoxo
Fatty Feliux
(Gossip Girl reference anybody?)